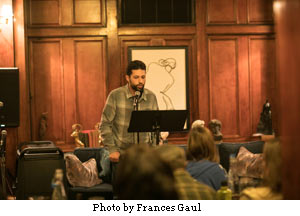 Alex Gallo-Brown is a writer living in Seattle. His non-fiction has appeared in publications that include Los Angeles Review of Books, Electric Literature, Lit Hub, Salon.com, The Rumpus, The Stranger, and Vice's Motherboard. His poems can be found in Tahoma Literary Review, Pacifica Literary Review online, The Good Men Project, Seattle Review of Books, and City Arts, among other journals.
He is the author of The Language of Grief (2012), a self-published collection of poems dedicated to his father, Nick Gallo. Sherman Alexie wrote, "Alex Gallo-Brown's poems are the sad and beautiful tales of a lost son, lost father and, yes, lost generation. But these poems are fun and smart. Flooded with imagery and besotted with music. I love them."
The recipient of awards from WonderRoot and the City of Atlanta and a two-time Pushcart Prize-nominee, his work has appeared in the anthologies Fly to the Assemblies: Seattle and the Rise of the Resistance and Washington 129+: More Poets of Washington State. He is a former contributing writer to City Arts magazine and a current contributor to South Seattle Emerald.