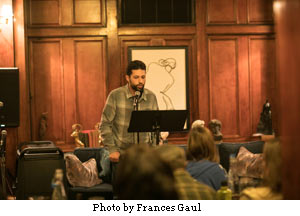 Alex Gallo-Brown is a writer living in Seattle. His non-fiction has appeared in publications that include Los Angeles Review of Books, Salon.com, Vice's Motherboard, The Brooklyn Rail, The Rumpus, The Collagist, Seattle Weekly, The Stranger, Heavy Feather Review, and 3:AM Magazine. His poems have appeared in Tahoma Literary Review, Pacifica Literary Review, The Monarch Review, Seattle Review of Books, Muse/A Journal, and City Arts.
He is the author of The Language of Grief, a self-published collection of poems dedicated to his father, the journalist Nick Gallo. Sherman Alexie wrote, "Alex Gallo-Brown's poems are the sad and beautiful tales of a lost son, lost father and, yes, lost generation. But these poems are fun and smart. Flooded with imagery and besotted with music. I love them."
The recipient of emerging artist awards from WonderRoot and the City of Atlanta, he holds a BFA in Writing from the Pratt Institute in Brooklyn and an MA in Creative Writing from Georgia State University in Atlanta. In 2016, he was nominated for a Pushcart Prize in poetry. He is a currently a community facilitator at the Fair Work Center in Seattle.